Invitation to contribute on Domestic Devotions in Medieval Europe
ENID member Salvador Ryan has been invited to guest-edit a special issue of the peer-reviewed, open-access journal Religions, on the theme of Domestic Devotions in Medieval Europe. Authors are invited to propose contributions in an effort to build on the excellent work that has been done in recent years on the early modern period. Of particular relevance are new voices across a broad geographical range, as well as articles on domestic devotion in medieval Judaism and Islam.
The Future of Religious Heritage in Paris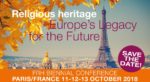 On October, 11-14, the next biennial conference organized by FRH (Future of Religious Heritage) will take place in Paris, France. This event has been co-prepared by ENID member Justin Kroesen, as member of the Scientific committee. This issue's title is Religious Heritage. Europe's Legacy for the Future.
Upcoming conference in Ireland: 'Mendicants on the Margins'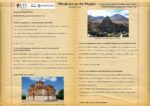 The School of History, UCC, Ireland will host a one-day symposium on the theme of 'Mendicants on the Margins', as part of the IRC-funded research project on the Irish Augustinian friars.
The symposium will take place on 27 June 2018, 9am-5.30pm, in the CACSSS Seminar Room, G27A, O'Rahilly Building, and will address themes of geographical, social and historiographical marginality.
Read more about the conference here >>>.
Semaines d'Études Médiévales 2018
Every year in June, the CESCM (Center of researches for medieval studies) at the University of Poitiers organizes conferences and visits during two weeks called "Semaines d'Études Médiévales". These international and pluridisciplinary sessions gather students and scholars from all around the world.
This year the Semaines d'Études Médiévales will be held from June 18.-29.
New Volume: Art & Religion 6
The latest volume in the Art & Religion series with Peeters Publishers in Louvain is entitled Decapitation and Sacrifice: Saint John's Head in Interdisciplinary Perspectives: Text, Object, Medium. Edited by Prof. Dr. Barbara Baert and Dr. Sophia Rochmes, the book is the result of an interdisciplinary project on the phenomenon of the decapitated head of Saint John the Baptist in its exegetical context, in the material culture of the Middle Ages and the Renaissance, and finally in more recent approaches regarding medium studies.
3 recent book titles by Salvador Ryan (with others)
Remembering the Reformation: Martin Luther and Catholic Theology >>>
Death and the Irish: a miscellany >>>
Religion and politics in urban Ireland, c.1500–c.1750 >>>