Symposium Ornamenta Sacra
This interdisciplinary research project initiated by our member Barbara Baert, gathering scholars from different institutions (UCL, KU Leuven, KIK-IRPA Brussels), aims at conducting an iconological and anthropological research devoted to the late medieval and early modern liturgical heritage. The historical anthropology of the visual, the sensible and the ritual will offer a methodological framework within which we will consider the material and symbolic nature as well as the spatial and ritual context of these objects, so as to provide a renewed analysis of their forms and functions.
Reformation without the People. Catholic Norway before and after the Reformation
(Reformasjon uten folk. Det katolske Norge i før- og etterreformatorisk tid)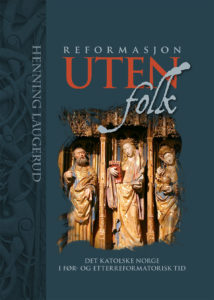 The Reformation in Norway took place as a result of a Danish royal decree in 1536/37, and from then on the state and its citizens in the Danish-Norwegian double-monarchy were obliged to profess the Evangelical-Lutheran faith. In this process, Norway lost its independence and was united with Denmark. To this day, the story of Reformation is told of as a kind of "victory narrative", wherein the impression is often given that people in general quickly and calmly slipped into the new religious fold. In this version, both the official ecclesiastical resistance, as well as that of the "populace" have been marginalised and made invisible. The same also applies to a large extent to the organised counter-reformation work that in Norway's case extended well into the first half of the 17th Century, and which was the historical background why the Constitution of the new independent nation of Norway in 1814 placed a prohibition on the Jesuits (not abolished from the Constitution until 1956).
The purpose of the book is to present a story about the Catholic Church and Catholicism in Norway before, during and in the first centuries after the Reformation. The objective is to present a different story and a different perspective on both the church's organised resistance and "popular" opposition, as well as the survival of Catholic beliefs and practices. The latter also discusses the importance of what would later come to be defined as "popular" religious ideologies, beliefs and practices, and how official sources attempted to redefine the Catholic "faith" as "superstition".
See: https://www.stolavbok.no/produkt/65325731/reformasjon-uten-folk 
Invitation to contribute on Domestic Devotions in Medieval Europe
ENID member Salvador Ryan has been invited to guest-edit a special issue of the peer-reviewed, open-access journal Religions, on the theme of Domestic Devotions in Medieval Europe. Authors are invited to propose contributions in an effort to build on the excellent work that has been done in recent years on the early modern period. Of particular relevance are new voices across a broad geographical range, as well as articles on domestic devotion in medieval Judaism and Islam.